Chief of the United States Department of Agriculture's Natural Resources Conservation Service honored to attend 68th National Land and Range Judging Contest
The soil types and the ranges of Oklahoma have been a challenge and a blessing to many generations of agricultural producers. Matt Lohr, Chief of the United States Department of Agriculture's (USDA) Natural Resources Conservation Service, (NRCS) in speaking to the contestants of the 68th National Land and Range Judging Contest on Thursday night (May 2) at the National Cowboy & Western Heritage Museum, said that in a lot ways the same can be true for them.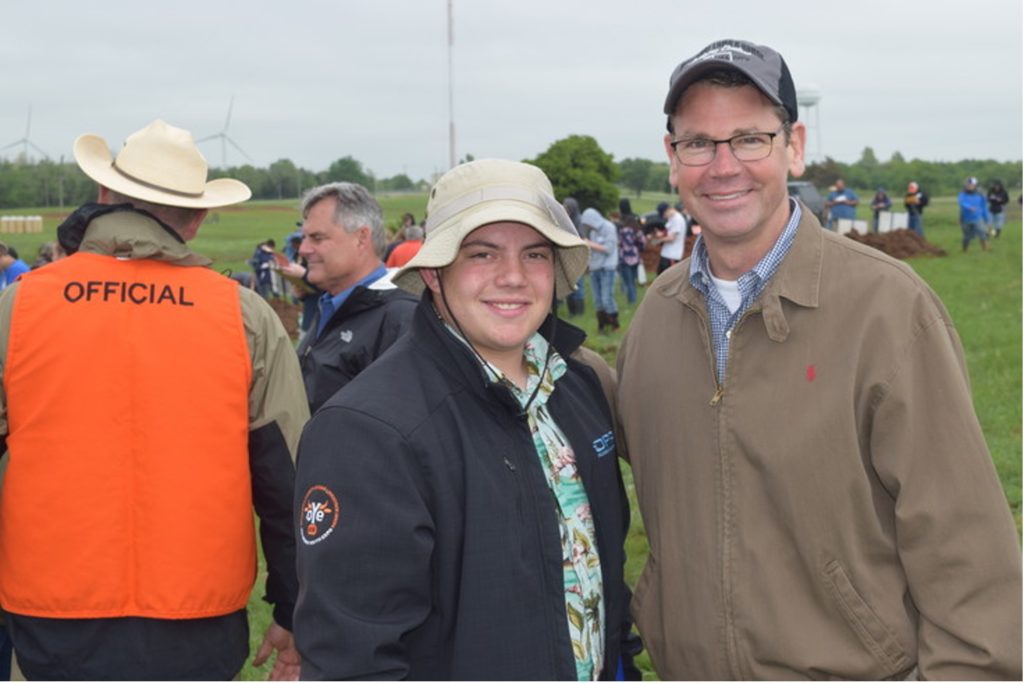 They faced challenges during the contest this week, but now they can turn those challenges into positives for themselves and their communities.
Lohr serves as the 16th Chief of NRCS. As Chief, Lohr provides leadership for NRCS and its mission to support America's farmers, ranchers and forest landowners in their voluntary conservation efforts through a network of more than 3,000 service centers in communities nationwide.
Lohr, who was introduced by Oklahoma Secretary of Agriculture Blayne Arthur, told the packed room, that it is a "Great honor to be here."
He said, "Congratulations to all of you in the Blue and Gold jackets and the Green jackets. As it was said, I am a proud past National FFA Officer and 4-H Member, and my favorite day in the whole world is when I get a chance to come and hang out and see great young leaders like yourself. So thank you so much for participating."
Nearly 700 4-H and FFA students and over 200 coaches from over 34 states gathered for this year's National Land and Range Judging Contest on Thursday. After two days of practice at sites in the Oklahoma City area, the contest was held near El Reno, Oklahoma at the Cheyenne Arapaho Tribal Headquarters.
4-H and FFA students match their skills in judging the adaptability of the land for various purposes, including farming, range management and home development. The skills the teens apply at the contest involve principles they can use in career fields such as environmental and agricultural management, natural resource conservation, home building and construction.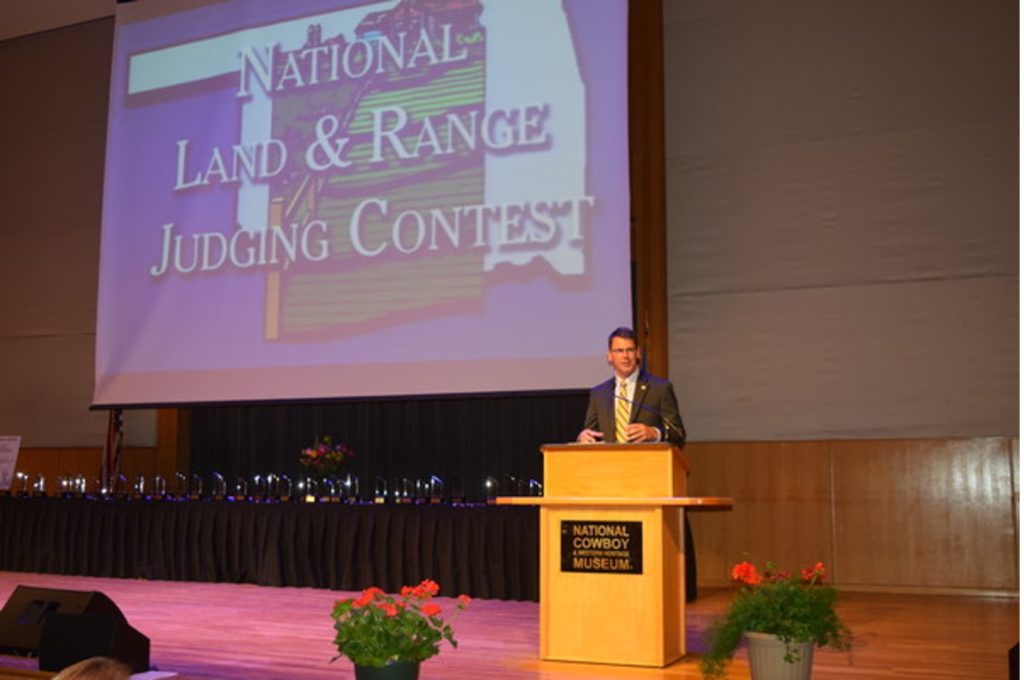 National championship trophies were awarded at the National Cowboy & Western Heritage Museum Thursday evening to team and individual winners in each category of competition: land judging, range judging and homesite evaluation. Each category included FFA and 4-H awards.
Before those awards were presented, students had the opportunity to hear Lohr share a message that extends far beyond this year's event.
Lohr challenged the students to build on this week's experience at the prestigious competition. Lohr told the students that as human beings, sometimes we become creatures of habit and we become creatures of our routine. He said we become very comfortable in doing things the same way and whenever we're challenged to try something brand new, even something as simple as clapping your hands, it just feels strange because it's outside of our comfort zone.
"The cool thing is, that's the way we build ourselves as greater leaders is by having the courage to try those new things, even when it feels kind of strange and we have to form those new habits," he said. "The experts say it takes about 21 days of doing something the same way before a new habit is formed. So, I congratulate all of you who have been able to participate in this Land and Range Judging Contest. You traveled across the country and have really stretched yourself, being in a new community, meeting new people and trying new activities. I commend you because that's how we begin to build on that leadership ability. I hope you will take all the skills you have learned and the confidence back home to your communities and be able to continue to develop those leadership skills."
The Oklahoma Association of Conservation Districts (OACD) was the primary host of the national event along with about 30 additional sponsors. NRCS as well as the Oklahoma Conservation Commission and so many other conservation partners work throughout the year to make the annual event a success.
Lohr thanked all the partners who come together to make the event happen for these students, and then he closed with more encouragement for the future.
"All of us have such great potential and so many great opportunities," he said. "It takes hard work, but we have to make sure that we are always grounded in what matters most, our morals, our values, our faith. Those things are always the most important that can always guide us in the right direction no matter what obstacle comes, no matter what setback comes. If we're following and staying true to our guiding principles no matter what happens, we will continue to persevere and continue to make that great difference."