Chickasaw Nation Presents U.S. Department of Interior Partners in Conservation Awards
Dr. Kelly Hurt, Chief Environmental, Health and Safety Officer for the Chickasaw Nation, presented Partners in Conservation Awards from the U.S. Department of Interior to the Conservation Commission and to Darrel Dominick, OCC tribal liaison, at the June 2009 Commission meeting. An award prepared for Robert Toole, OCC Conservation Programs director, who was not present, will be presented at a later time. The text of the awards reads "In recognition of outstanding conservation achievements attained through collaboration and partnership with others — Protection of Aquifer Resources in Oklahoma."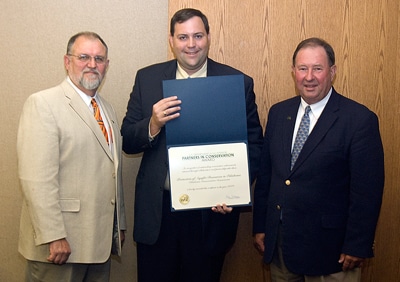 The Chickasaw Nation nominated OCC and employees Dominick and Toole in recognition of their assistance in implementing a demonstration project as part of the tribal water plan. Part of the water plan is a component for protecting Oklahoma's valuable aquifer resources including an artificial recharge demonstration project. Harold Wingard, a landowner who has since passed away, has also received a Partners in Conservation Award posthumously for allowing his property to serve as the location for the demonstration project.
The Arbuckle-Simpson Aquifer underlies about 500 square miles of south-central Oklahoma and is an important source of water for the cities of Ada and Sulphur. It is also the source of water for a number of important springs and streams in the region, including those associated with the Bureau of Reclamation's Arbuckle Project, Chickasaw National Recreation Area, and the Chickasaw Nation. The Chickasaw Nation encompasses a large portion of land over the Arbuckle-Simpson Aquifer.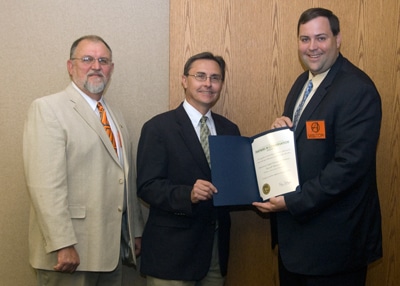 In light of stresses placed on the aquifer from the recent drought, the Chickasaw Nation is implementing the artificial recharge project to assist in securing the future water supply for the area and conserve a sensitive ecosystem that is home to numerous sensitive aquatic species. The Chickasaw Nation stated that information obtained from this project will assist in a much larger cooperative effort to understand the overall quantity, quality, and spatial and temporal distribution of source water available for recharge across Oklahoma.
Toole and Dominick coordinated a field tour of watershed structures, discussing the need for rehabilitation of many of Oklahoma's dams. They led a discussion of the possibility of running flood waters through wetlands for filtering before allowing the water to recharge the aquifer. After submission by the Chickasaw Nation, the Bureau of Reclamation submitted the project for Partners in Conservation Awards because it involves entities at all levels — federal, tribal, state and local governments as well as an individual landowner.