Charlotte Stieber Retires After 30 Years of Service
Charlotte Stieber was honored at the February 2012 meeting of the Oklahoma Conservation Commission for almost 30 Years of service to the Oklahoma Conservation Commission and the State of Oklahoma. She retired at the end of January.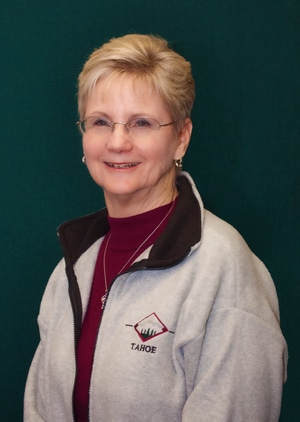 Charlotte, administrative programs officer for OCC's Abandoned Mine Land Reclamation Program (AML), has worked in the same OCC division since she started in 1982. Within months of her beginning work at OCC, she was asked to help host a national meeting, the annual meeting that year for the National Association of Abandoned Mine Land Programs (NAAMLP), according to Mike Kastl, AML director. Charlotte again helped staff host the national meeting more recently, but that had been her "initiation by fire," Kastl said.
Charlotte received the Stan Barnard Award from NAAMLP in September 2002 for "behind the scenes" support of the association. Reviewing, editing and archiving the NAAMLP newsletter, bylaws and meeting minutes were examples given of Charlotte's support.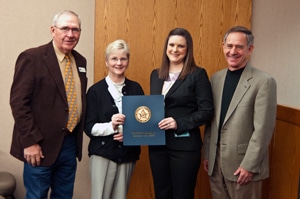 In addition to her AML activities, Charlotte has a long history of assisting with the Oklahoma Association of Conservation Districts (OACD) youth contests. Specifically, she coordinated the speech contests at the OACD Annual State Meeting, lining out judges, contestants and contest rooms, along with the Youth Awards Program following the speech contests where awards are presented for Poster and Essay Contests winners in addition to winners of the Speech Contests.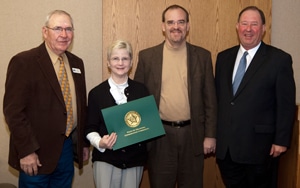 At the February Commission meeting Charlotte was presented with a Governor's Commendation and a Conservation Commission Commendation. Keili McEwen, Governor Mary Fallin's liaison for OCC, helped present the Governor's Commendation, which read "In recognition of service 1982-2012 to the Oklahoma Conservation Commission in the conservation of natural resources and reclamation of abandoned mine land in the State of Oklahoma." George Stunkard, OCC chair, and Mike Thralls, OCC executive director, presented Charlotte with a Conservation Commission Commendation, which read "In appreciation of your 30 years of dedicated and distinguished service to the Oklahoma Conservation Commission and the Abandoned Mine Land Reclamation Program in the conservation of natural resources and reclamation of damaged land for the State of Oklahoma."