Caddo County Flood Damage Tour
State Legislators Tour Caddo County Flood Damage
State Sen. Ron Justice hosted a tour of Caddo County flood damage for other legislators on Oct. 19. The tour included stops at flood control structures and land damage by spring and summer rain. Sen. Don Barrington and Rep. Phil Richardson participated in the tour.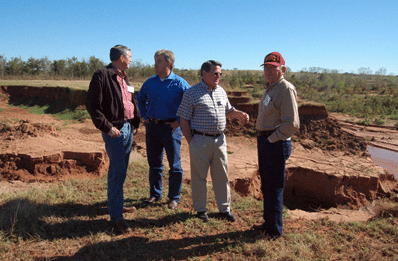 On Aug. 19 many locations in Caddo County received as much as 12 inches of rain in five hours with significant damage resulting from flooding. Approximately 150 bridges washed out, miles of roads were damaged and several upstream flood control structures were damaged – both earthen dams and spillways. Pond dams and terraces were blown out. Over 100 pipe drop structures were washed out. Since the flooding, the USDA Farm Service Agency in Anadarko has taken, to date, over 2,000 applications from landowners for Emergency Conservation Program (ECP) assistance to begin repairing the damage. The cost estimate for these applications is $10 million.
"The South Caddo Conservation District appreciates members of the state Senate coming to Caddo County to view the damage," said Charlie Opitz, district chairman. The tour provided an overview of the damage and the needs to restore the conservation infrastructure he said. Sen. Justice also expressed his appreciation to Sen. Barrington and Rep. Richardson for attending the tour, who both acknowledged the dramatic damage they had witnessed.
Scotty Herriman, president of the Oklahoma Association of Conservation Districts and a Nowata County farmer, traveled across the state to attend the tour. He lost his home and farmland in a flood of the Verdigris River earlier in the year. "The Verdigris flood was a terrible, devastating flood," Herriman said. "But it was a slow flood. You have to see the damage in Caddo County to understand the violence of the storm that hit here," he said.
Clay Pope, executive director of the Oklahoma Association of Conservation Districts, pointed out that damages had taken place in not just Caddo and Nowata Counties, but also Blaine and Kingfisher and other locations in the state. "The need for restoration of the conservation infrastructure is a statewide issue," Pope said, "as that infrastructure protected us in emergencies and now needs repair."
Mike Thralls, executive director of the Oklahoma Conservation Commission, reported meeting with Gov. Brad Henry earlier in the week. The needs presented, just for restoration of conservation infrastructure from damages of freakish weather statewide in 2007 totaled $30 million.
"We must explore every possible resource to rebuild what Oklahoma has built since the Dust Bowl to protect our natural resources," Thralls said. "And we need all the support we can get just to get back to where we were a few years ago," he said.