Caddo County Commissioners Lunch 2010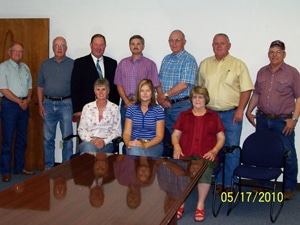 The West, North, and South Caddo Conservation Districts had an appreciation luncheon on Monday, May 17, 2010, at the USDA Service Center in Anadarko for the three Caddo County Commissioners. The districts hosted the luncheon and informational meeting to thank Commissioners Benny Bowling, Craig Gibson and Carlos Squires for their support of conservation activities in the county. Attendance totaled 27 including district board members and staff, Natural Resources Conservation Service staff, the commissioners and guests.
Danielle Whaley, NRCS district conservationist gave a slide presentation on some of the work that has been done in all three conservation districts.
The commissioners gave their support to over 34 Emergency Watershed Protection projects last year. Most were from flooding and were rip rap jobs along bridges to stabilize the banks. 
She also highlighted what a strong partnership the districts and the commissioners have in other ways. Last year the commissioners helped out with funding shortages by providing funds for some projects like watershed repair and environmental education. Both of those issues are priorities for the commissioners and the district boards alike.
Each district received approximately $3,700 this year from the commissioners for watershed projects including sites in need of repair or shaping on spillways or fencing.
"The commissioners understand that watershed repair or maintenance directly affects the protection and maintenance of county roads and bridges," Whaley said. "Each district reports every three months to the commissioners' board with their updated projects. They have also requested that we let them know when ever the districts might need special funds that they can help with. This luncheon was to thank them for their support!" Whaley said.