Blue Thumb Receives Golden Paddle Award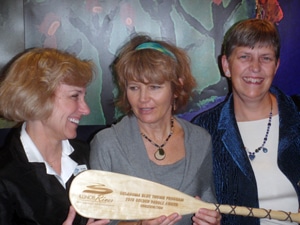 The Oklahoma Conservation Commission's Blue Thumb Program received the Golden Paddle Award from the Illinois River Watershed Partnership. IWRP presented the award to the Blue Thumb water education program on Nov. 9 at its annual Stakeholders Meeting in Springdale, Ark.
Delia Haak, executive director of the IRWP, explained that six awards are given annually to individuals or entities that exemplify "good stewardship in the protection, preservation, and enhancement of the water quality and wildlife habitat in the Illinois River watershed in Arkansas and Oklahoma." The Blue Thumb Program received the conservation category Golden Paddle. Currently, Blue Thumb volunteers monitor eight stream sites in the Oklahoma portion of the watershed.
Blue Thumb coordinator Cheryl Cheadle said "We have very dedicated volunteers at work in the Illinois River watershed. Without these volunteers, and Jean Lemmon, who takes a leadership in this part of the state for Blue Thumb, we could not have a strong monitoring and education effort." Cheadle said that recent work in the watershed included:
Stream education events for Northeastern State University education students and Tahlequah Alternative High School students
Macroinvertebrate and fish collections over the summer and
Educational activities during the recent Illinois RiverFest