Blue Thumb Environmental Education Workshops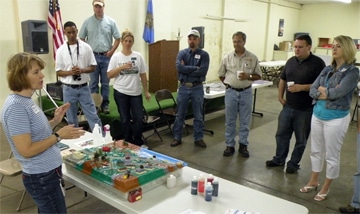 Conservation Districts can now offer a new type of Blue Thumb training — a four-hour workshop to engage people with an interest in environmental education, particularly as it relates to protecting streams and rivers. Previous training sessions for Blue Thumb volunteers focused on water monitoring —sampling, testing, field collections and quality control procedures. Those two-day monitor training workshops are still offered across the state. The new environmental education workshops focus on outreach and education for adults and older students.
"This workshop is a good idea for your conservation district to train helpers for natural resource days, staffing exhibits, or trying to promote the conservation district as the principal local conservation organization," said Cheryl Cheadle, Blue Thumb program coordinator. The workshop can also help prepare district employees, teachers and other participants for giving presentations for classrooms, fairs, group meetings and other events and locations.
The workshops use a variety of speakers and topics including use of the Enviroscape watershed model for pollution prevention demonstrations, curb marking on storm drains, and activities for conservation stations at Natural Resource Days. Those activities might include "fish printing," using animal tracks and puppets or even giving PowerPoint presentations. Ideas are discussed for other roles for Blue Thumb volunteers, such as photographing Blue Thumb activities for news media, displays and presentations. Speakers may vary by location, making use of local expertise and addressing local conservation issues. The workshops are designed to last about four hours.
Muskogee County Conservation District held the "pilot" workshop for this effort on June 10, cosponsored by the City of Muskogee. Another workshop is slated for Coweta on Aug. 5, sponsored by Wagoner County Conservation District and the City of Coweta.
For more information, call Cheryl Cheadle at 918-398-1804