Blue Thumb Data Interpretation Workshop
Blue Thumb Volunteers Armed with Data!
Volunteers who have been working for years with the Oklahoma Conservation Commission's Blue Thumb Program came together with Blue Thumb staff members in December to actively begin the process of educating the public about water pollution prevention. The endeavor began with the volunteers receiving all of their stream data, becoming familiar with the way the data is presented, and then writing a brief, "layman's terms" report on the streams they monitor.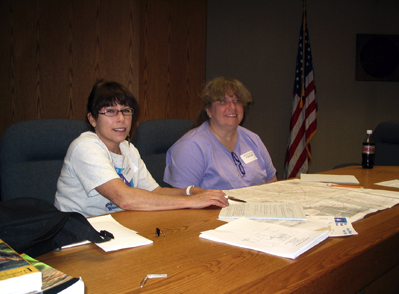 OCC Water Quality employee and Blue Thumb Coordinator Cheryl Cheadle, said, "We have had an excellent corps of volunteers in action out there since the early '90s. We have lots of stream data, and the time is right to arm these volunteers with the information they need to jump right into the middle of watershed education." Cheadle explained that the goal of the Blue Thumb Program is to help that "average citizen" better understand his or her role in water pollution prevention, and she is convinced that the best way to accomplish this is for volunteers to work in their "own backyards" to educate and motivate their neighbors.
Blue Thumb Educator Kim Shaw, said, "It was neat to see the light go on in the volunteers' heads as their data was explained piece by piece." Shaw elaborated that the "pieces" referred to are the different types of data the volunteers work to collect as they:
Perform chemical monthly monitoring on the stream of their choosing
Collect benthic macroinvertebrates twice a year
Measure stream flow twice a year
Collect fish and perform a habitat assessment at least once on their site
"If you think about the time and effort these volunteers commit to, it is no wonder that we now have an excellent library of information to share," Cheadle said. She added that volunteers initially go through at least two days of training and they attend quarterly quality assurance sessions that "test" their abilities as stream monitors.
Blue Thumb Quality Assurance Officer, Jean Lemmon, said, "There was great satisfaction in turning over so much information to the volunteers." Because they appear at their sites for monitoring at least monthly, the volunteers get a good "feel" for their streams. This "feel" – plus a data report based on the real conditions of the stream can be the basis for working with the public.
Now that draft data reports have been prepared, Blue Thumb staff will work with the volunteers to fine tune these reports into "finished" products, and support the volunteers in taking their information public.
"The volunteers are just beginning to take the next important steps into their watersheds, and some of them already know how they want to share their data. Blue Thumb staff will be there to make suggestions and support their efforts, and it will be very exciting and satisfying to see the Blue Thumb educational effort taken to this level," Cheadle said.
Blue Thumb volunteer Beth Landon has been active with the program since 2001, and she received information on both Bluff Creek in Oklahoma County and Mustang Creek in Canadian County. Landon is a laboratory technician (Biology Department) at Oklahoma City University and she monitors each month with students from OCU.
"The data interpretation sessions helped validate what I've been doing since 2001. I have to be able to explain about stream ecology and monitoring to the students," Landon said, adding, "When I work on Bluff Creek, I am in an area of upscale neighborhoods. People are all the time coming out to ask about the creek. I'm not at all sure they understand that their actions, particularly on their lawns, can impact the creek." Landon believes that the citizens around Bluff Creek will be receptive to information on how to reduce pollution.
Information provided to volunteers on other streams currently monitored includes Mooser Creek, Fred Creek, Crow Creek and Polecat Creek in Tulsa County; Deep Fork River in Okmulgee County; West Cache Creek and Panther Creek in Comanche County and Honey Creek in Delaware County.