Blue Thumb Calendar Featured Producer for September: Greg Scott – He has an equal love for learning and teaching
TRYON, Okla. – There's nothing rushed, gruff or chaotic about Greg Scott.
The Oklahoma Conservation Commission Soil Scientist with the straw cowboy hat, bushy white mustache and easy-goes-it delivery of information digs as deep with his thoughts as he does his shovel.
That's why his answer to the question of, "Who served as a conservation mentor to you?" is so him, right down to offering a list longer than this story itself.
Here's what he said, "I actually could come up with a list of names of current people who have influenced me, but I bet it is between 50 and 100 people…Want me to do it?"
No Sir, but thank you just the same.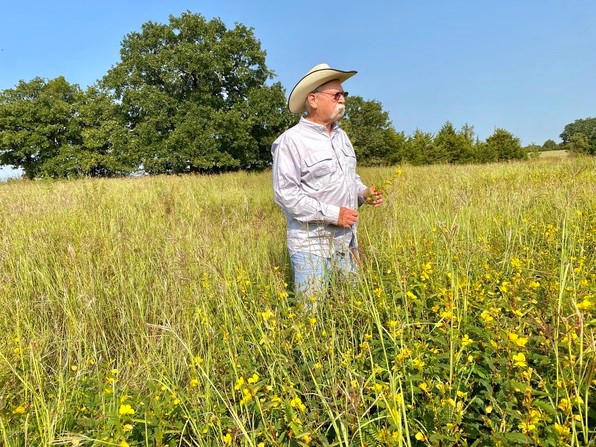 By the way, there are undoubtedly twice that many people that Scott has influenced in the areas of conservation and life in general.
Scott, the former Oklahoma Natural Resources Service State Soil Scientist, was born and raised in Oklahoma City in a family that moved to central Oklahoma from the southeastern community of Hugo during the Great Depression. Scott likes to grab hold of the cliché, "I wasn't born in the country, but got here as soon as I could."
When asked about some wisdom passed along to him through the years, you quickly get an idea of that dig down deep thought process.
"Years ago I was looking at a magnolia tree in Hugo with my great-aunt," he said. "It was sick, and she said 'Your uncle who knows so much takes all the leaves away every fall, and the nutrients can't get back in the soil, they are starving my tree.' But we were outdoors all the time and I was influenced by Rachel Carson, Aldo Leopold, John Muir and others."
Today, Scott and his wife have a farm 20 miles south of Stillwater. It is along Headquarters Creek in Lincoln County, and was still raising cotton in the 1960s.
"This part of the state has fragile soils that were subject to severe erosion using the methods of the day," he said. "Some parts of the farm have had 2 feet of erosion, and the flood plains are covered with soil that flooding brought down the stream. This part of Oklahoma is in the cross-timbers, where strips of prairie alternate with strips of oak savannah on the hilltops and ridges."
Back when Scott was about 14 years old, he began reading the authors earlier mentioned. He also read some of HH Bennet's writing, and could see that resources are limited.
"When we bought this farm, we planted the tilled land to grass," he said. "The monoculture was easy, but expensive to maintain and produce. As we learned about soil health, we moved more towards a diverse plant community on the farm and started dividing the pastures into smaller ones."
Today, they diversify the pastures by adding legumes and other valuable forbs such as plantain, chicory, compass plant and Maximillian sunflower. They practice a rotation grazing system that allows for a short grazing period and long rest.
"We have added nine water tanks with pipelines to distribute water in every pasture," he said. "We move our mineral feeders and hay sites to minimize damage from over-use."
Because of those practices, "We are seeing more production and higher biomass than ever before. In addition, some native plants that we have not planted are moving back on the land. The majority of them are beneficial and the others are often indicators of damage that still exists."
Scott is a director on his local Conservation District Board, helping to guide efforts in Lincoln County. He's a past director for No-till on the Plains and currently serves as a Board Member for the Oklahoma Invasive Plants Council.
"Each of these groups plays an important role in conservation programs, education, and protection of our ecosystem," he said. "It has been a privilege to serve in each of these groups."
He's been to countless field days. However, one in particular sticks out.
"In Noble County we looked at two fields, next to each other," Scott said. "I was amazed at how fast the soil came back to life when soil health practices were used, but the other field was basically dead; it was a swamp in the spring and a desert in the summer."
Pages on calendars flip faster and faster all the time. Still, Scott never lets that take away his appreciation of those who helped him and those he feels blessed to have helped.
"We stand on the shoulders of those who went ahead," Scott said. "I have learned from some great people. I think I have had some success as a part of our team, and it makes me happy to help others succeed. Hope and happiness are two traits that leapt out when I started spending time with farmers and ranchers who were leading these changes. When most producers were 'doom and gloom', one friend said 'I'm the only optimistic farmer in my area, and everywhere I look I see opportunity.'"
Editor's Note: The Oklahoma Blue Thumb Calendar highlights important information about conservation, has a featured producer(s) in the months of February through October, and provides contact information for both Blue Thumb staff and Conservation Districts. Plus, this year's project includes an in-depth producer(s) feature story, such as the one you just read. If you would like a copy of the free 2021 Blue Thumb Calendar, please contact Blue Thumb Program Director Rebecca Bond at Rebecca.bond@conservation.ok.gov.