Blue Thumb Calendar 2021 October Featured Producer Grant Victor talks about "My time to carry conservation forward."
AFTON, Okla. – Time comes in so many different forms. It can be noon, or midnight, or it can be a decade or a half-century.
Grant Victor, who was born and raised at Afton in Ottawa County, speaks with sincerity about another form of time when referring to conservation.
"My grandfather (James Y. Victor) and my father (Samuel Grant Victor) were excellent in not only applying conservation practices, but also in teaching and explaining their benefits," Victor said. "As it became 'My time' it was a great honor to carry on the heritage."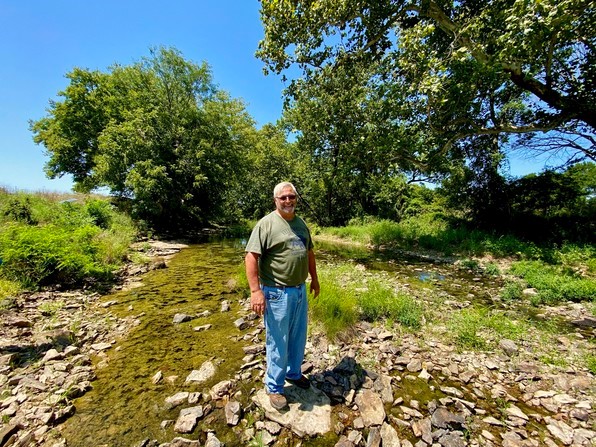 "My time" comes with the responsibility of practicing what you've learned and also learning what you will need to practice as times change. The two generations he spoke of, taught Victor, "That we are stewards of the land and responsible to future generations to preserve and perhaps enhance the natural resources. They also taught me that Mother Nature has a great ability to heal itself if allowed to."
Victor and his wife Donna live on the original Cherokee Indian Allotment of his great grandfather, Grant Victor.
It was announced earlier this year by the Sand County Foundation that the Victor Ranch of Afton is the recipient of the Oklahoma Leopold Conservation Award. In Oklahoma the award is presented annually by Sand County Foundation, American Farmland Trust, Oklahoma Cattlemen's Association, Noble Research Institute, Oklahoma Farm Bureau Foundation for Agriculture, ITC Great Plains, Oklahoma Conservation Commission, and the U.S. Department of Agriculture's Natural Resources Conservation Service. The national sponsor for Sand County Foundation's Leopold Conservation Award is American Farmland Trust.
"I'm a fourth generation farmer/rancher," Victor said. "The homestead where I live was built in 1891. Horse Creek is a big part of the acreage and is one of the 'head waters' of Grand Lake O' The Cherokees. The farm superseded Grand Lake by many years."
In the early 1980s Victor and his father noticed the great destruction of land with its erosion from cattle at water facilities, primarily ponds and creeks.
"By supplying water tanks and fencing off areas from cattle, we saw a quick and impressive recovery of land and water resources," he said. "It was then that I realized that I could make a difference."
However, you can roll time back a little more if you really want to talk about conservation on their place.
"Some of the earliest steps in conservation programs were with my dad and my grandfather," he said. "Back in what I want to think was the 1950s, they put a massive amount of the crop acreage in the 'Soil Bank' program. It was later, a large sum of cropland was converted back to grassland, while other land was placed in the CRP program. I was not heavily involved, but learned from these early steps."
Today, conservation on his land in the northeastern corner of Oklahoma includes no till, minimum till, cropland conversion to grasses, pond water management, brush and thistle management, riparian areas along creeks (250 acres) for water quality and wildlife management, the planting of pecan orchards and cover crops.
"There are not many of the acres on the family farm that are not now better than before," Victor said. "It is a continuous job. Water quality has drastically improved."
That very subject is a perfect transition into some of his key present day interests and actions. Victor is currently serving on the Ottawa County Soil Conservation Board and the Ottawa County Farm Service Agency Board, but he is also currently serving with 20 other producers across the nation in an advisory position on water quality research funding. Victor has also been asked by the Grand River Dam Authority to be a spokesman showing and encouraging others to be involved in water quality programs.
Plus, he has been involved in water quality education close to home.
"This past year I was part of a workshop about numerous programs including 'The Blue Thumb' program," he said. "What opened my eyes was that I was now with a majority of people that were not farmers or ranchers. They explained the programs that involved children in most settings of large cities. Later that afternoon, we went to my ranch and did projects in the creek. I was so impressed at what they could show and teach me about my own operation."
This was an eye-opener.
"I have since realized the importance of urban and city people learning about agriculture, and about farmers and ranchers learning more about city people and their concerns," he said. "I found out that we have so much in common."
Victor knows that such as understanding of rural and urban conservation is, well … timeless!
Editor's Note: The Oklahoma Blue Thumb Calendar highlights important information about conservation, has a featured producer(s) in the months of February through October, and provides contact information for both Blue Thumb staff and Conservation Districts. Plus, this year's project includes an in-depth producer(s) feature story, such as the one you just read. If you would like a copy of the free 2021 Blue Thumb Calendar, please contact Blue Thumb Program Director Rebecca Bond at Rebecca.bond@conservation.ok.gov.