Billy B at Rogers Conservation Education Reserve for 18th Year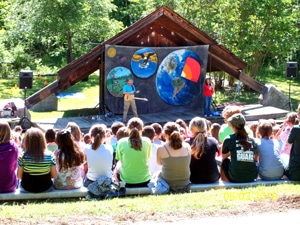 The Rogers County Conservation District hosted Billy B, " the natural science song and dance man," at the Conservation Education Reserve for the 18th year on May 3, 2010. Approximately 1,200 fourth graders from across northeastern Oklahoma attended. The students and teachers had a great time dancing, singing and learning about conservation.
After the concert, for the first time ever, the district invited students to stay and join in natural resource activities that were set up across the Reserve. Almost 1,000 students stayed, had sack lunches and learned about the importance of our natural resources and the need for conservation.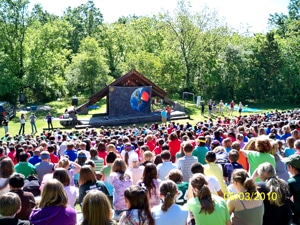 The activities were led by employees from city, state and federal agencies from across Oklahoma. These agencies included the Oklahoma Conservation Commission, USDA Natural Resource Conservation Service, Oklahoma Department of Agriculture, OSU Extension, Tulsa County Conservation District, Mayes County Conservation District, Ottawa County Conservation District and the City of Catoosa. Claremore High School MASH club, Biology students from Rogers State University and Pre-Service Teachers from Cameron University also lent their assistance.
"It was an exhausting, yet exhilarating day," said Robert Gibbs, education coordinator. "We received many compliments from presenters and fourth grade teachers who attended the event," she said. "One of the fourth graders, however, summed it up best when he said, 'This was awesome. I hope we get to come back next year!'"