Ben Pollard Receives 2013 Public Service Award
The Greater Oklahoma City Chapter of the United Nations Association presented Ben Pollard, Oklahoma Conservation Commission (OCC) Assistant Director, with their 2013 Public Service Award at the July OCC meeting.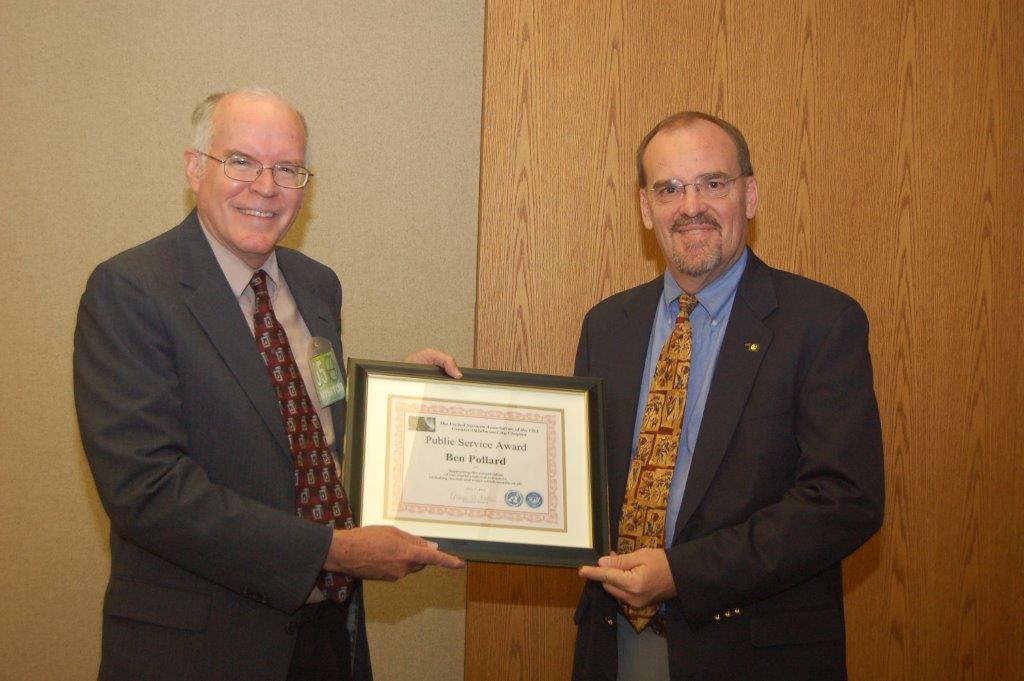 Mr. Pollard was nominated for the award by long-time UNA-USA member Dorothy Messenger, who lived for a while in the Texas Panhandle during the Dust Bowl years. 
In making her recommendation, Dorothy wrote about Mr. Pollard's commitment to "social progress and better standards of life in larger freedom" (a phrase borrowed from the UN Charter). "Ben Pollard has devoted his career to building the kind of relationships with landowners statewide that lead them to a commitment of time and finances to protect their land. Many hours have been spent developing ways to communicate and share information about innovative farming techniques that protect soil and water. Pollard's professional accomplishments reflect a commitment to excellence and innovation in government."
Pollard has worked for OCC for 35 years, the last 22 years as Assistant Director. During that time he has provided leadership and worked on a number of initiatives to advance conservation in the state that include:
Development of a state funded conservation cost share program for landowners to install conservation practices
Establishment of a water quality program to monitor and assess nonpoint source pollution and initiatives for landowners to prevent nutrients from their land entering Oklahoma waterways
Development of an abandoned mine reclamation program to reclaim both surface and underground mine areas in eastern Oklahoma
Facilitation of operation maintenance and repair to the state's 2,100 flood control dams which protect the lives and property of Oklahomans statewide
Preparation of a $25 million dollar conservation bond program (passed by the legislature) to repair flood control dams damaged during the 2007 Hurricane Erin causing public safety issues
Pollard and the OCC staff were also recognized in the award for their involvement in working with the OETA staff and other partners to coordinate previews and promote the Ken Burns "The Dust Bowl" film. The result was "The Dust Bowl", one of the highest-rated shows in OETA history. OCC assisted with screenings in six Oklahoma cities followed by community discussions about today's conservation issues and challenges. The screenings attracted over 3,000 participants. In addition, OETA produced six news pieces on related natural resource problems in the state. Recently, OETA has been notified that its partnership with the Conservation Commission and other agencies has been honored with a regional Emmy nomination under the community service category. Pollard considers this accolade by the television industry as a career highlight because of the number of citizens reached with the conservation message during the airing of 'The Dust Bowl.' 
Beyond Mr. Pollard's personal commitment to serve the people of our state, the award also honors the members of the Oklahoma Conservation Commission and their professional staff. "The award is a great honor and I accepted it, not just for myself, but on behalf of the commission members and staff. The work we do at the Commission requires teamwork and cooperation and we accomplish things together," said Pollard.