Ben Pollard Receives 2013 Public Service Award
The USDA Natural Resources Conservation Service (NRCS) presented a "Standing in the Gap" award to Ed Crall at the 75th Annual State Meeting of the Oklahoma Association of Conservation Districts (OACD). Crall is the Caddo County Special Projects supervisor for the Oklahoma Conservation Commission. John Mueller, acting state conservationist for NRCS in Oklahoma, presented the award during the OACD Meeting, held Feb. 24-25, 2013, in Midwest City. The Standing in the Gap Award is given annually to a person who has bridged the gap between NRCS, landowners, and conservation districts and has made significant conservation progress through hard work and innovation.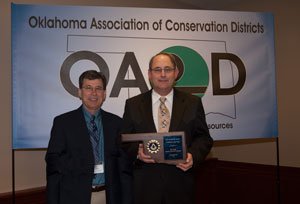 The nomination form for Crall stated "Ed stands in the 'GAP' every day. He strives to make the most out of his workdays and always puts the customers first. He is never too busy to help out when needed and that includes the phones and walk-in customers that visit the Anadarko field office."
Crall's main focus in Caddo County has been supervising multiple projects underway to repair damage in the Sugar Creek watershed caused by Tropical Depression Erin in August 2007. That effort has entailed working with landowners to secure agreements and easements, and with the Federal Emergency Management Agency and Oklahoma Department of Emergency Management, NRCS and the three conservation districts in the county, especially South Caddo Conservation District.
This project is now in its third phase toward completion, with over $1.5 million in conservation practices placed along the Sugar Creek channel. In addition, Crall helped acquire a Cooperative Conservation Partnership Initiative grant from NRCS, making it possible for additional work to restore land and waterways that were not covered under FEMA projects or other NRCS dam rehabilitation projects. More funding contracted and currently under construction will put the total at approximately $2.1 million in Caddo County for conservation and repair from the 2007 devastating storm.
"Mr. Crall has worked hard to secure funding from the NRCS national office to support the priorities of the conservation district and help farmers and ranchers address critical erosion concerns adjacent to the (Sugar Creek) stream," Mueller said. "His work has resulted in the Oklahoma Conservation Commission and NRCS being able to effectively supplement the initial efforts of the Federal Emergency Management Agency," Muller said.
In accepting the award, Crall thanked NRCS for the recognition, and said "We have more work to do."