ASABE Honors Larry Caldwell
Larry W. Caldwell, P.E., watershed specialist, Oklahoma Conservation Commission, was honored on Aug. 1, 2012, during an awards program at the American Society of Agricultural and Biological Engineers (ASABE) Annual International Meeting. The meeting was held at the Anatole Hilton in Dallas, Texas. Caldwell received both an ASABE Fellow honor and a G.B. Gunlogson Countryside Engineering Award. Caldwell is retired from the USDA Natural Resources Conservation Service.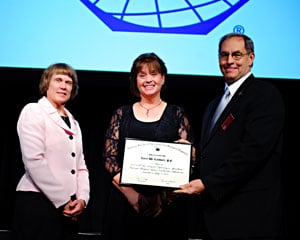 For more than 41 years, Caldwell has assisted landowners and communities with planning, design, and construction of thousands of conservation practices involving erosion control, water management, wildlife development, waste management, and flood control. A nationally recognized authority on dam safety and rehabilitation of aging dams, Caldwell is currently providing leadership for a team assisting local conservation districts to evaluate aging flood control dams and to develop related emergency action plans and rehabilitation designs to meet current safety standards. He is also leading a national pilot project to design and implement a web-based system to monitor 2100 flood control dams in Oklahoma.
Caldwell provided support for congressional efforts to obtain USDA authorization to rehabilitate aging dams. This involved numerous congressional hearings and briefings and coordination with other agencies and organizations. When Congress authorized funding for NRCS to begin a dam-rehabilitation program in 2000, Caldwell was named the first NRCS Watershed Rehabilitation Program Leader to develop and implement a national program to rehabilitate aging flood control dams. He worked tirelessly and traveled throughout the United States, providing guidance to states and watershed project sponsors in the development of their rehabilitation programs. He provided leadership, developed agency policy and procedures for implementation of rehabilitation projects and worked with other agencies to develop a ranking system to prioritize funding of NRCS-assisted projects. The 105 dams rehabilitated to date have protected thousands of lives downstream, and have provided wetland and wildlife habitat, water supplies, recreation for future generations, and millions of dollars in benefits annually.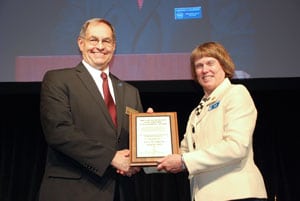 In addition to having given 120 presentations at various conferences across the U.S. and Taiwan, Caldwell has authored or co-authored numerous refereed journal articles, conference proceedings, and magazine articles, along with fact sheets, design guidelines, and technical manuals for federal and state agencies. He has conducted workshops in association with watershed sponsors across the U.S. on rehabilitating aging watershed dams and on dam operation, maintenance, and inspection procedures. In his 36-years of ASABE membership, Caldwell has served in officer positions in the Oklahoma Section and served on two ASABE historic landmark committees that earned recognition for vegetated waterways and the USDA Small Watershed program. A few of Caldwell's awards include a National Society of Professional Engineers Federal Engineer of the Year award (NRCS), Association of State Dam Safety Officials National Merit award, and National Water Management Center Partnership award. His other professional activities include the Association of State Dam Safety Officials, Soil and Water Conservation Society, National Watershed Coalition and National Association of Conservation Districts.