Agreement Creates Four New 15-Month Technician Positions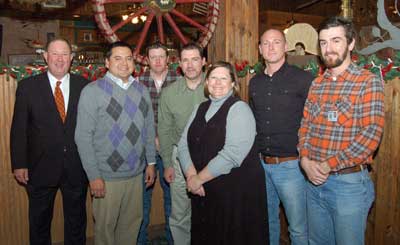 An agreement between the USDA Natural Resources Conservation Service has made possible four new soil conservation technician positions within OCC's District Services division. The duty stations of the technicians will be at four conservation district offices. They will be jointly supervised by Lisa Knauf Owen, OCC/DS director, and the NRCS district conservationist at each location. The positions are funded for a 15-month period ending December 31, 2012.
The increased funding for conservation programs over the last several years has been accompanied by a downsizing of NRCS personnel to service those programs. The primary purpose of the new technicians will be to assist with conservation program implementation. The job descriptions call for the employees to meet the same qualifications required of NRCS GS-4 Soil Conservation Technicians.
The new OCC employees and their assignments are Cameron Standing, Lincoln County Conservation District; Chad Miller, Jackson County CD; Josh McNeff, East Canadian County CD; and Matt Irby, Hughes County CD.
Some of the tasks the technicians will perform include assisting with land surveys and staking sites, gathering farm data for conservation plans, provide information to landowners or contractors on methods of installing conservation practices, taking applications for Farm Bill programs and following up with landowners on progress of implementation.
"With NRCS under pressure to reduce personnel and keep hiring at a minimum, this is an opportunity to try to get some new folks trained to help put conservation practices on the ground," said Lisa Knauf Owen, OCC/DS director. "We will stay optimistic that when the time period for this funding ends, some opportunity to keep these people active and involved will present itself," she added.