After 10 years of service, Mike Rooker steps down from Conservation Commission board
Oklahoma City – On June 5, Mike Rooker of Dale, Okla. participated in his last meeting as one of five members of the Conservation Commission. Rooker began his service as Area II commissioner in 2007, after being appointed to the position by then Governor Brad Henry and was reappointed in 2012, by Governor Mary Fallin.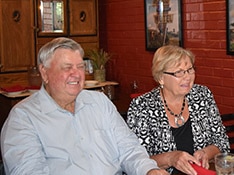 "Conservation is not political; Mike has shown that by being appointed by both a republican and a democrat, and by promoting conservation not just in his area, but across the state," said Trey Lam, Conservation Commission executive director. Area II is comprised of 15 counties and 16 conservation district stretching north from Kay and south to Love. Rooker has traveled to them all either to recognize their achievements or just to attend one of their board meetings. He has been a consistent presence on the Commission, only missing 2 of 120 Commission meetings.
Conservation Commission chairman, Scotty Herriman, has known Rooker for over 25 years and has worked with him on several different projects. He has appreciated Rooker's willingness to travel on behalf of the Commission.
"We will truly miss him. Mike is not one of those guys that talks about it, he does it," Herriman said.
"He has given his time to make an impact and you can't do that if you don't show up; Mike always shows up," said Lam
Rooker serves on the board of the Shawnee Conservation District and will continue to do so for at least another year. He is looking forward to spending time with his wife, Chris, watching grandkids play ball, and working on and educating about his antique tractor collection. However, he appreciates the opportunity given to him by the governors that appointed him; he has enjoyed it and learned a lot from it.
"It is an honor to think that a governor would pick a farmer from Dale, Okla. to serve and it's been quite an honor to serve," Rooker said.
"I appreciate Mike's tenure on the Conservation Commission board," said Governor Mary Fallin. "He took seriously both his responsibilities and his commitment to conservation. While sorry to lose his expertise, I am happy that Mike can now spend more time with his family and focus on other opportunities."
At the next Commission meeting, on July 10, Rooker's seat will be filled by Phil Campbell, who Governor Fallin appointed in April.