Adding years to the significantly important lives of Oklahoma's Flood Control Dams
Today, local, state, and federal officials toured the Upper Elk Creek Site 23D Rehabilitation on the east edge of Elk City.
New life is being given to this flood control dam and the tour was a way to showcase those efforts along with the watershed project sponsor, North Fork of Red River Conservation District. Originally constructed in 1976 at a cost of $102,401 and classified as a significant hazard dam, this is now a high hazard dam. An increase in risk of loss of life and property damage due to a potential overtopping breach of the dam during an extreme flood event is the reason site 23D is undergoing this rehabilitation.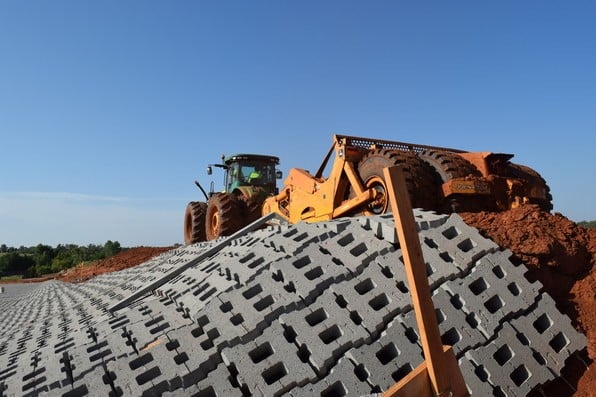 Although Site 23D is functioning as originally planned and providing downstream flood damage prevention, this rehabilitation means that in the future, Site 23D will reduce the potential of a dam breach and subsequent potential damage to downstream properties and infrastructure and will reduce the risk of loss of life. Additionally, the rehabilitation of site 23D allows for the service life of the dam to be extended for at least a century.
In this project, the top of dam elevation is being increased by 4.4 feet. Due to the raised top of dam elevation, the county road is being raised as well. A new 30-inch reinforced concrete pipe is being installed using a technique known as "jack and bore." Articulated concrete blocks (ACBs) are being added to the exit channel of the spillway to provide erosion protection and prevent head cutting. The contractor for the rehabilitation construction is C-P Integrated Services, Inc., of Oklahoma City. The rehabilitation construction costs are $4.3 million, 65 percent of this cost is provided by the federal government while 35 percent is provided by the Conservation Commission on behalf of the watershed project sponsor, North Fork of Red River Conservation District.
The upstream flood control dams have received incredible support from Oklahoma's congressional and state leaders.
One form of support that is significant was the passage of SB 1938, authorizing the Oklahoma Capitol Improvement Authority for bond issuance in the amount of $17.5 million on behalf of the Oklahoma Conservation Commission. These funds are being used for the repair and rehabilitation of high-hazard dams pursuant to the Conservation District Act.
Trey Lam, Executive Director of the Oklahoma Conservation Commission, said, "Today's gathering captured a true picture of what created and has maintained the small watershed program for nearly 80 years. The dedicated and visionary North Fork of the Red River Conservation District Board hosted Elk City officials, a Conservation Commissioner and staff, along with Oklahoma Secretary of Agriculture Blayne Arthur and State Representative Todd Russ, USDA-NRCS engineers and staff. We were also very honored to have Congressman Frank Lucas and his field staff join us. The Watershed Program works best as a partnership of local, state and federal entities with a common goal of preventing devastating flooding while putting conservation on the ground in the watershed. The 2,107 flood control structures in Oklahoma would never have been built without such a strong partnership. All the partners are just as dedicated to maintaining the level of flood protection today and for the next 100 years."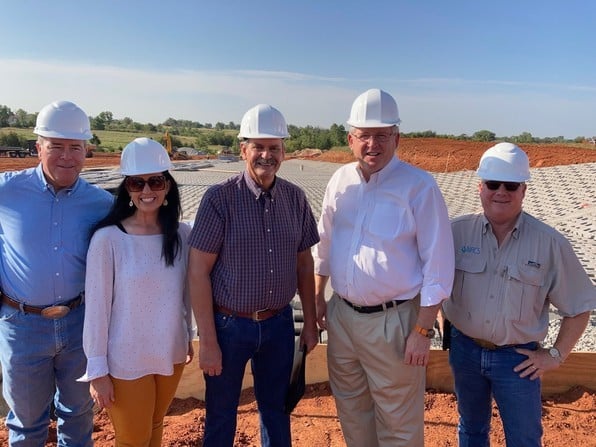 Today during the tour, U.S. Congressman Frank Lucas, a native of western Oklahoma and a longtime champion of the upstream flood control program, said, "In conservation these are the good old days; all we have to do is continue to work together and there will be benefits for generations to come. Am I proud of what we have done together? You bet. Thank you to each of you for doing what you do and thank you for helping me do what I do. Together we are going to make such a difference that the people downstream will never know it happened. That's the ultimate compliment when things work so well that people don't even know what you've done."
Chris Stoner, the USDA Natural Resources Conservation Service Oklahoma State Conservation Engineer, said, "It was great to see the support from all different levels today with city, county, state and federal officials all in attendance. It was good for everyone to see a job that is under construction to show the scale and complexities of these rehabilitation projects."
The 2,107 upstream flood control dams constructed in Oklahoma — the most of any state in the nation — have established a $2 billion infrastructure that provides benefits to thousands of citizens. In fact, it's estimated that the dams and accompanying conservation practices in the watersheds provide approximately $96 million in benefits each year. Not only do they provide flood and erosion control to over two million acres of agricultural land in downstream flood plains, but they also provide sources of water for livestock and irrigation and habitats for wildlife. There are 42 flood control dams that were constructed as multi-purpose structures, which provide municipal and rural water supplies and recreation areas for local communities. Altogether, the flood control dams in Oklahoma protect 2,756 county and highway bridges; provide a reduction in flooding for 41,744 farms and ranches; trap 19 million tons of sediment each year, which would otherwise end up in major streams and lakes, and they create or enhance 90,979 acres of wetlands.