2017 Employee of the Year: Mike Sharp
Mike Sharp, Office of Geographic Information and Technical Services Director and AML Assistant Director, was named the 2017 Employee of the Year at the May 2018 full staff meeting. Mike's Employee of the Quarter nomination, which made him an Employee of the Year candidate, reads: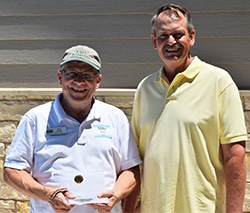 As our agency contracts in size but expands in focus, it becomes more important than ever before to pitch in and offer the various skills each of us have. Few people have done this more often or with a more positive, can-do attitude than Mike Sharp.
His extensive knowledge and skills in his area of expertise are sought by agencies and partners across Oklahoma and from other states as well. He travels extensively helping others learn the tools of the trade. But he is also quick to take the time to help provide equipment or know-how to our own staff. Whether it is mapping out a draft office layout, piecing together a working computer, checking on the building and our computer network after a storm, finding a way to FINALLY get information displayed in a geographic format on our website, or helping people in Moore or Houston, or anywhere else in need find a way to navigate in a devastated landscape.
Most recently, Mike travelled at a moment's notice to Texas to help provide emergency responders with GIS services as they performed search and rescue and began the process of working towards "normal" in hurricane-devastated areas. However, that is just the latest example of how Mike has helped law enforcement, emergency responders and others understand the value and potential of geographic information systems.
His service to the agency, partners, Oklahomans, and anyone else he can help as well help make our agency stronger and better. He is an outstanding example of leadership, partnership and service.
Thank you, Mike, for all that you do!