2017 Employee of the Quarter: Janet Stewart
Janet Stewart, general counsel, was recognized as Employee of the Quarter at the May 2017 meeting of the Oklahoma Conservation Commission. Her nomination for Employee of the Quarter read: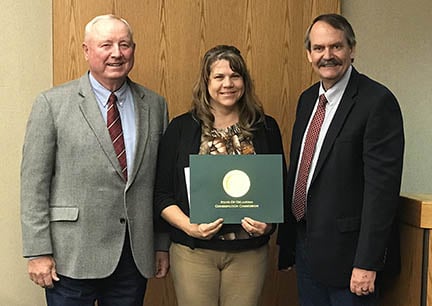 Good employees leverage their talents and skills to fulfill job duties thoroughly and efficiently. Great employees do so with a consistently productive and "team first" attitude. Whether facing the daily "20 questions" routine or "advocate under fire" role, this nominee for employee of the quarter blends work ethic, consistency, professionalism, and people-first attitude in such a way that seems more the exception in today's professional work environment.
Through her diligence, Janet shepherded the agency's cause in a lengthy court proceeding to an effective decision in 2016 that will serve to protect agency, district and public interests. Most recently, she graciously agreed to function as the "Office Move Coordinator", a less than popular role that really required someone of her experience, temperament, and perspective. Janet worked gracefully and effectively to facilitate final plans for fair space allowance, design, and move logistics, all while mitigating potential for conflict and shepherding work orders with OMES.
The agency owes a debt of gratitude and appreciation to Janet Stewart for her performance in what are just recent examples of a long track record of dedicated work to the Conservation Commission and the State of Oklahoma.
Congratulations, Janet!