2012 Employee of the Quarter: Stacey Day
Stacey Day, OCC/Water Quality staff, was recognized at the June 2012 Commission meeting for being named Employee of the Quarter at the May OCC full staff meeting.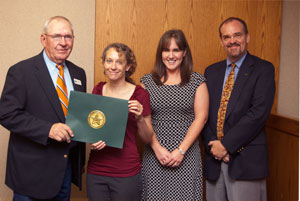 In her role as senior technical writer for the Water Quality division, Stacey has developed a comprehensive knowledge and thorough understanding of the raw field data collected in the Water Quality monitoring program and stored in the division's database. Her responsibility for the quality of the data entered and subsequent analyses, interpreting and reporting adds a level security and competence that contributes significantly to the success of the Water Quality division's efforts.
The text of the form nominating for the honor stated that Stacey has a characteristic willingness to assist anyone with anything at any time, with a great attitude. "There is not a component of the Water Quality division that she has not participated in, including water sampling, fish collecting, Blue Thumb sampling and training, the Awards and Recognition Committee, giving presentations at national meetings, participating in TMDL working groups, and more. She continuously exhibits a strong desire to increase her knowledge of all components related to water conservation."