2012 Employee of the Quarter: Ben Pollard
Ben Pollard, OCC assistant director, was recognized at the October 2012 Commission meeting for being named Employee of the Quarter at the OCC Full Staff Meeting on Sept. 27.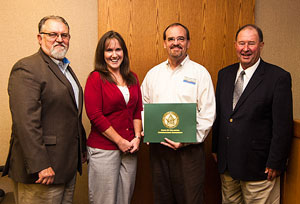 Pollard's duties as second executive officer of the agency comprise administrative oversight of all Commission programs and facilitating operations, logistics, and effective relations with critical agency partners. He supervises a number of staff at the main office and serves as the agency designate for risk management.
Pollard has been employed at OCC for more than 34 years, serving under seven Governors, 17, state Legislatures, 23 Conservation Commission members, three executive directors and working with 17 presidents of the Oklahoma Association of Conservation Districts and six state conservationists for the USDA Natural Resources Conservation Service.
The Employee of the Quarter nomination form called Pollard a "Grand Facilitator" and stated "Whether it's 'standing in the gap' to mediate partnership efforts, providing sage advice in delicate situations with districts, or negotiating beneficial terms with office leases, Ben is the '12th man' of the agency team."
Ben and his wife Laura live in Edmond and have two grown children, Eric and Katrina.