18th Annual GIS Day at the Capitol Celebrated on March 14th, 2012
Hundreds of people visited more than 30 display booths during the 18th annual GIS Day at the Capitol. The audience included state legislators, Capitol staff and many adults and students visiting the Capitol. The displays were exhibited in both the fourth and second floor rotundas of the Capitol.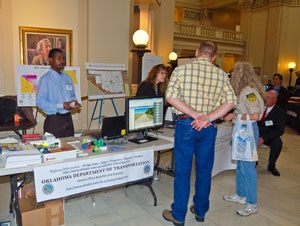 GIS Day at the Capitol provides an opportunity for public sector agencies and organizations to showcase uses of Geographic Information Systems (GIS) throughout the state of Oklahoma. Mike Sharp, state Geographic Information coordinator, said visitors are asking more relevant questions and displaying higher awareness of using geographic information systems.
"If you have a Global Positioning System (GPS) instrument in your vehicle, on your cell phone or have created a map on a computer program to get somewhere, you have already used a Geographic Information System (GIS) and may not have even known it."GIS integrates computer technologies, people, and detailed information about location that lets you visualize relationships, patterns, and trends in maps for better decisions. GIS can help you answer questions and solve problems by looking at your data in a way that is quickly understood and easily shared. GIS is any system for capturing, storing, analyzing and managing data and associated attributes which are spatially referenced to Earth," Sharp said.
"Most people find learning easier if it involves visual items. GIS Day provides a great opportunity to see firsthand the incredible ways these technological advances are impacting the world every day," Sharp said.
GIS technology can be used for scientific investigations, resource management, asset management, environmental impact assessment, urban planning, cartography, criminology, history, sales, marketing, and logistics. For example, GIS might allow emergency planners to easily calculate emergency response times in the event of a natural disaster (see DamWatch at GIS Day), GIS might be used to find wetlands that need protection from plant emissions or GIS can be used by a company to site a new business to take advantage of a previously underserved market.
"GIS Day provides representatives from all over Oklahoma in the Legislature to see how more than 30 federal, state, county and municipal agencies use this incredible technology every day to better serve the public," Sharp said.