Service Award: Margaret Blevins, 25 Years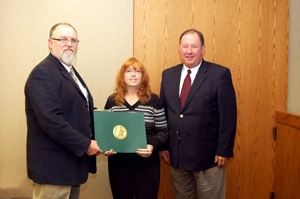 Margaret Blevins, OCC/WQ data manager, was recognized at the January 2011 meeting of the Conservation Commission for 25 year of service to OCC and the state of Oklahoma. She has been with OCC since 2000.
Margaret graduated from Rose State College with an Associates Degree in Science Technology, Legal Assistant. From 1984 to 2000 she worked at the Cleveland County District Attorney's office in various divisions including supervisory roles. In April 2000 she came to work as a part time temporary data entry clerk for the Water Quality division. The job evolved into a full time permanent position and progressed to the title of data manager.
The contractor who designed the database used by WQ took time to teach Margaret some basic programing. She continued to teach herself programing skills necessary to maintain the database and attended courses to improve those skills to make needed improvements in the WQ database.
"We depend on Margaret to enter and maintain the massive amounts of data resulting from our extensive monitoring programs," said Shanon Phillips, OCC/WQ director. "That data is vital to the continuing success stories in the Conservation Commission's Nonpoint Source Water Quality Program," Phillips said.